Volunteers
We Need You!
Volunteers are the epicenter of our operations. They provide a foundation on which we are able to build and expand our programs in order to meet the needs of our neighbors in Franklin County and the North Quabbin. All tasks at FCCMP related to receiving and distributing food are reserved for volunteers under the guidance of our staff. We feel that these roles, which are fundamental to meeting our mission of alleviating hunger throughout Franklin County & the North Quabbin, are best fulfilled by volunteers – unpaid team members donating their time and talents – rather than paid employees. In alignment with our values to foster community and bring dignity into each interaction, we feel that volunteers help us reach the pinnacle of our work. They help us build bridges and connections where many may be divided. They help us break down barriers that are often ignored or overlooked. And their shared experiences help us improve our practices and continue to grow within our work.
If you value treating your neighbors with dignity and dismantling barriers while creating and fostering accessibility, consider volunteering with our team!
Do you and your group want to cook with us? Email volunteer@fccmp.org
---
Testimonials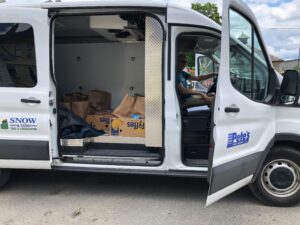 Jack M. – Food Bank Pick Up Driver
After moving to Greenfield from New York Jack was driving around one day. At the sight of a double parked line of vehicles, he felt compelled to pull over and exit his. He witnessed community members loading groceries into trunks and asked one how he could help. He was then referred to our agency.
Jack had never before the COVID pandemic seen hunger addressed so strongly and prevalent within a community. Inspired by how Franklin County supports those in need, he now helps us supply our sites with supplementary items from our partnership with the Food Bank of Western Massachusetts.
---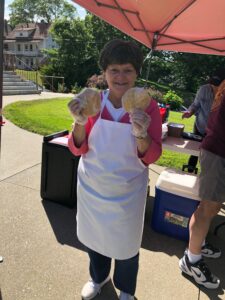 Donna at Turners Falls Meal Site
Every Monday afternoon Donna can be found in the kitchen of Our Lady of Peace, buzzing about as she portions her homemade desserts. Donna started baking desserts for us 18 years ago, and joined us cooking in the kitchen early on during the COVID-19 pandemic. She is passionate about supporting her community and neighbors, and says that the relationships with her fellow volunteers keeps her coming back.
---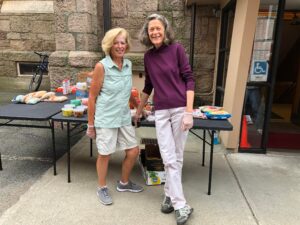 Jan & Merry at the Orange Food Pantry Pop-Up in Greenfield
Each Tuesday, Merry can be seen buzzing about outside of the Second Congregational Church with her clipboard, greeting the eager line of patrons as they approach our pop-up pantry table. She catches up with single parents, says hello to service dogs, and checks in on those bracing the cold climate without shelter. Inside of the church, Jan can be overheard humming as she consolidates and stocks our inventory or packs a patron's order. Both Merry and Jan express the care and passion they have for giving to their community- "It makes a difference when you enjoy doing what you do." As the pantry model has grown and evolved, both volunteers have risen to the occasion time and again with gratitude for the flexibility and adaptability our agency provides.
---
---
Want to Get Involved?
Email our Volunteer Coordinator at volunteer@fccmp.org or complete the form below
Get in touch with the FCCMP to inquire about volunteer opportunities.