Volunteer
Your Role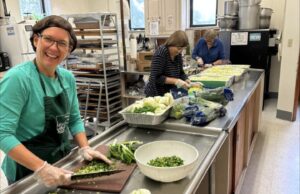 Volunteers are the epicenter of our operations, and are fundamental to meeting our mission of alleviating hunger throughout
Franklin County
and the
North Quabbin.
They provide a foundation on which we are able to build and expand our programs in order to meet the needs of our neighbors. At FCCMP, we approach our work through the belief that we are all "neighbors feeding neighbors" here to foster community and build connections. Volunteers play an essential part by stepping up as neighbors and making an impact in their community!
Join our community! Currently, our organization is feeding people in four towns across Franklin county at various times and places each week. Volunteer responsibilities range from donating time and skill at various meal sites to organizing food drives/donations, delivering meals or groceries, and more. You can choose to be an individual volunteer and work alongside other like-minded people in your area, or you can be a part of a volunteer group, which can be anything ranging from a business, to a church, to a group of dedicated friends!
If you care about treating your neighbors with dignity, meeting other passionate and driven people, and helping feed your neighbors, consider volunteering with our team!
Do you or your group want to cook with us? Email [email protected] with the subject lines "Individual Kitchen Inquiry" or "Group Kitchen Inquiry" for more information. To learn more about the fine details of volunteering, and to see our meal site schedule, browse our website!

Volunteer Expectations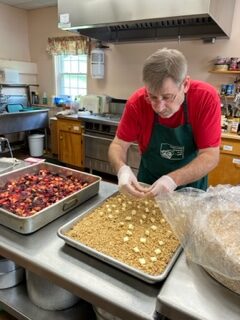 Per the FCCMP Volunteer Handbook, our volunteers are expected to:
Follow our values in all of your interactions; bringing dignity to each person and help break down barriers to accessing food.
Follow the policies and procedures for the program site as directed/outlined by the Site Coordinator
Refrain from hateful or derogatory language, inappropriate conduct, and discussion of politics, violence, or religion.
Communicate openly with our staff about physical limitations, and constantly ask questions and seek clarity
Foster a supportive environment- be willing to help, guide, answer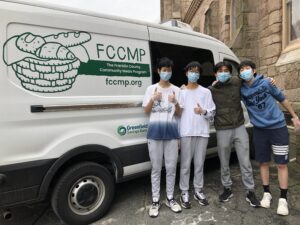 In return, our volunteers can expect:
That we will always be here to support your process. You can talk with any of our staff members about challenges you are facing when working with us.
That we will be responsive to your feedback. All of our staff want you, our operations, and the neighbors we are serving to succeed. We welcome suggestions and constructive criticism! It's how we grow!
That we will provide structure and routine for your role- your shift times will remain the same (to the best of our ability), you'll know what to expect for tasks, and you'll work alongside other supportive volunteers and staff members.
For more information, read over our Volunteer Handbook
---
About Our Coordinators
After you're onboarded, your Site Coordinator is your main point of contact. Each site is run by a different coordinator.
Volunteer With Us!