The Franklin County Community Meals Program depends on your donations to continue feeding our neighbors.
Join our community this #GivingTuesday! Let's come together to alleviate hunger in Franklin County.
Please use the form below to send a donation to the FCCMP.
You may also choose to send us a check at the following address:

Franklin County Community Meals Program
P.O. Box 172
Greenfield, MA 01302
---
Click the image below for some quick statistics on our activities in 2020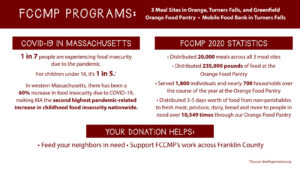 Message from the Executive Director:
Thank you for being a part of our community! This past year, we have been humbled with gratitude for the web of support that has helped us to continue to feed our neighbors.
We have faced a year of changes, adjustments and increased need. Through it all, and thanks to you, we are proud to say that we have not missed a single day at our pantry or our meal sites, and have continued to do everything in our power to take care of the most vulnerable in our community.
FCCMP serves anyone who comes to our door in need of support. We provide feeding programs across Franklin County at 3 meal sites and the Orange Food Pantry. Since the onset of COVID 19, our numbers have increased tremendously. To meet the growing need of the community, we have strengthened our partnerships and built stronger networks within this community to address food insecurity as a whole. We believe that hunger will be alleviated only through and with an intentional web of support across the region. What we have been able to accomplish to date is really a result of our community coming together to take care of one another.
We know that only together will we succeed. Hunger is not going away. And this pandemic is not over yet. We have more to face ahead of us and the long term impact is unknown. Please join us in our dedication to being #NeighborsNourishingNeighbors this holiday season by helping us to raise the funds necessary to continue to do this work.
As an organization, this year has resulted in increased spending on food, transportation and supplies on top of regular expenses of utilities, rent, insurance and part-time staff. Additionally, we know we need to continue to innovate and coordinate changes to our programs to meet the increasing food needs of our communities. In the face of the pandemic, donations of food and volunteer hours enabled us to continue to show up. What we need now more than ever is your financial support. Please give generously and join us in facing the challenges that await us.
2020 Annual Fundraising Goal:
As we look forward to the coming year our goal is to raise $50,000 to ensure that we can continue to meet the growing need in our community.
Your financial support goes a long way in ensuring we can keep the lights on, the refrigerators running, and our programs fully stocked with food and staff. In addition, your support will help us to plan strategically for how we can move forward in these uncertain times. As an organization, we are thinking innovatively about how our programs are shaped, the resources we provide to the community and the role we will play in dismantling the root causes of hunger. Thank you for being on this journey with us and for your deep connection to and care for this work.
We remain ever grateful for your ongoing support!